Graduated from Florida School of Massage in Gainesville, March 1990, with 500 hours of training plus 200 hours in Sports Massage.
100 hours of Orthopedic Massage training with James Waslaski
Certified NeuroMuscular Massage Therapist with the St. John Method, since 1992.
Licensed Maine Massage Therapist #99, in practice since 1990.
Professional Member of the American Massage Therapy Association.
Former ACE certified fitness trainer
3:15 marathon runner, 1:28 half marathon, Triathlete of the Year in Maine twice, life-long strength trainer.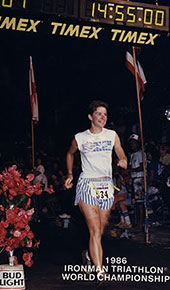 1986 World Championship Hawaii Ironman Triathlon competitor (swim 2.4 miles, bike 112 miles, run 26.2 miles); finished in 14 hours, 55 minutes.
ADVANCED TRAINING
Intensive training classes in:
Paul St. John NeuroMuscular Massage Therapy: Levels 1, 2, 3, 4, 5 and passed the Certification Exam
Myofascial Release I and II
Cranial Sacral Therapy I and II
European Hot Stone Massage
Eric Dalton Myofacial Techniques
Robert King Cervical Techniques
Kinesio Tape Training